Nebula Office is a collection of free software by Office. These are exclusively available For the Windows users. This is easy to use and compatible software with Google Docs, Google Sheets, Microsoft Office, Google Slides, etc., including all other free software available for Windows by Office.
Nebula Office is a user-friendly software, which contains a number of useful software in it, like PDF editor, Database editor, vector graphics, flowchart drawing programs, etc. this is a perfect platform for accessing many file formats and editing them with perfect ease.
In addition to the excel, PowerPoint, Word, etc file formats, it also supports many other file formats, like .odt, .oth, .ott, .odm, .oth, .stw, .sxw and .sxg. You can also use Nebula Office to access and edit the Word files, WordPerfect Documents, StarWriter Format files, DocBook's .xml files, etc.
Why Track Changes?
When you are using Nebula Office to access your files or documents, which can be of various types of file formats, you generally edit those files. You can easily do this by using the Nebula Office Writer. But what if you want to keep a track of the changes that you make to your file? This means that Nebula Office will save all the edits, you make to your file.
Advantages of tracking edits
Consider a situation in which you access an import document using Nebula Office and then you make a lot of necessary edits to the file. While doing all this, you may unintentionally make a mistake or a series of mistakes. You do not have the original copy with you. This will lead you to a difficult situation.
Nebula Office understands that a lot of people may face the same issue while they edit their documents during revisions. At this point, if you need the original documents again, then Nebula Office has something great for you!
The Tracking Changes option is available in Nebula Office. It will save all the edits you make to the documents and at any point of time while accessing and editing your file; you can access the record of edits you have made. You can go to any version of the document. This simply means that you can reverse the edits, keep some of the previously made edits and apply some other edits.
This way you have full control over the documents edits and you can decide over which version seems better to you and you can finally revert to that version of the file.
The recorded edits
Whether you write a string, delete it, enlarge it, or change its style in any way, Nebula Office records these changes for you. This is a handy tool and helps writers or editors to make their editing work easy and time-efficient. When you apply any feature in Nitro, you can always check its record of actions.
If you need to undo a particular set of edits, you can click on the arrow near the Undo option. Clicking on the same will show you all the edits you have made, every single action performed! This will help you revert the file to any previous version of your choice.
Tracking changes in two documents
There are many methods that help you to track changes in the document. You can use the Writer to compare any two files. It will also show the changes that you have made. You can also use the Writer's Change Marks option to see the added changes and changed formatting.
This definitely helps, if you haven't been keeping a track of the changes done in the document.
How to track edits?
You can easily use the writer to combine the two files and check the differences.
To compare two documents, follow these steps:
At first, open the edited document.
Click on Edit option
Click on the track changes option.
Click on the compare Document option. A new dialog box appears.
Select the original document.
Now, click on the Open button to start the comparison.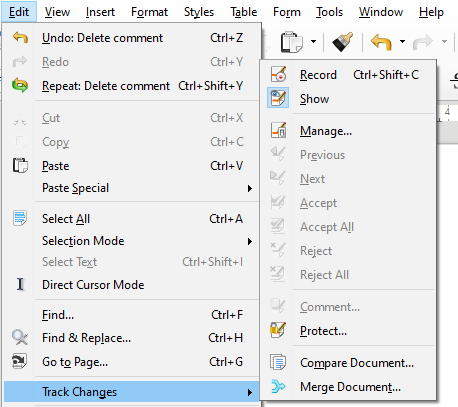 Nebula Office Writer will mark the changes that are done in the original document. It will also display the manage changes dialog box.
To accept or reject changes follow these steps:
Click on Edit option
Click on the track changes option.
Click on the show changes option.
Right-click on any one change.
Click on Accept Change or Reject Change option according to your choice.
At the end
You can either keep a record of all the edits that you make to the file or you can compare the changed and the original file, once you are done with all the editing in the Nebula Office.